Naipu NP-AH horizontal slurry pumps
1. Product description
1. ductile iron frame and cover plate
2. high chromium alloy and rubber impeller/ cover and frame plate liner/throat bushing
3. highly wear resistant and abrasive resistant rubber parts
4. gland seal with packing/centrifugal seal with metal/rubber expeller ring/mechanical ring
5. transferring slurries with high erosion and in high density in industrial sectors such as of metallurgy, mining, coal, power generation and building materials.
6. our engineers available overseas
7. used in many state owned enterprises and major international companies
8. advanced means of design: CFD calculation and full 3D design
2. Our strength
1. Our R&D team: we have our own professional research and development team;
2. Unique product prescription: Our prescription greatly improve the quality of our products;
4. Production capacity: We have a big factory, so our production capacity is strong.
5. Short delivery time: All products you want can be completed within short time.
3.Naipu NP/AH horizontal slurry pumps performance parameters
Size range (outlet):----- 1'' to 18'' (25 mm to 450 mm)
Capacity:-------------- up to 22,000 gpm ( 5,000 m3/hr )
Head: -----------------up to 240 ft (73 m )
Pressure: --------------up to 300 psi (2,020 kPa)
4.Naipu ZJ/AH horizontal slurry pumps selection chart
5.Drive Type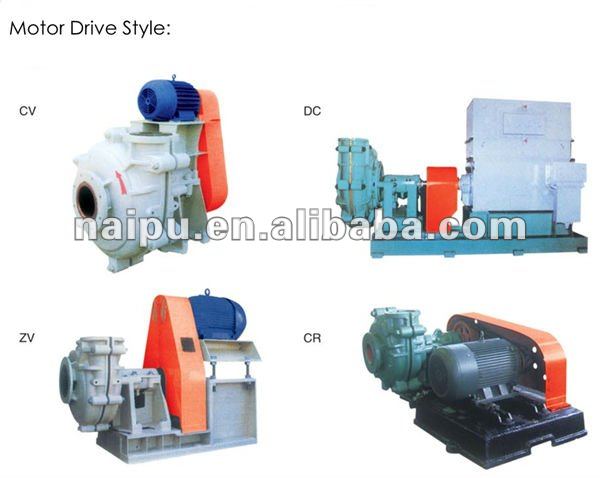 6.Structure of ZJ/AH slurry pumps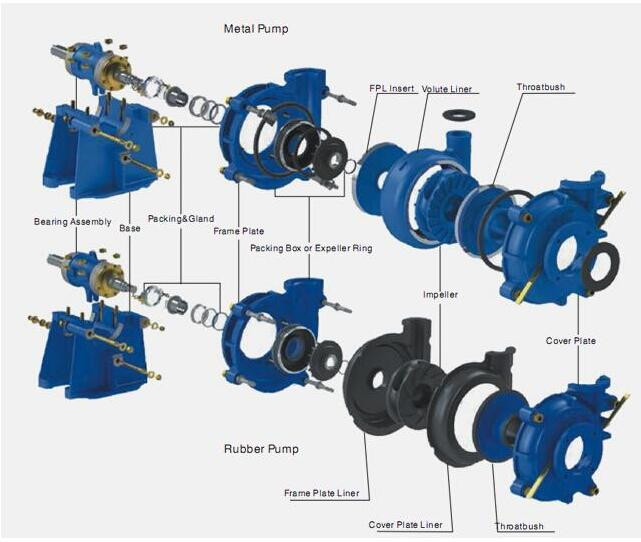 7.The wet end parts material of the NP-AH pumps
Parts

Material

Specification

Volute

Liner,Impeller,Throatbush,FPL

insert

Hard Metal

A05:23~30% A07:14~18% A12:30% A49:27~29%A33:33~37%





Chrome White Iron

Volute

Liner,Impeller,Throatbush,FPL

insert

Rubber

R26 R08 R55 R38 R33 Natural Rubber; S01 EPDM Rubber;





S21;Butyl;S31;Hypalon; S44; Neoprene

Expeller&Expeller Ring

Metal

A05 23~30% High Chrome Iron G01: Grey Iron

Expeller&Expeller Ring

Rubber

R26 R08 R55 R38 R33 Natural Rubber

Stufing Box

Metal

A05 23~30% High Chrome Iron G01: Grey Iron

Frame Plate,Cover Plate,Base

Bearing housing

Metal

G01 Grey Iron D21 Ductile Iron

Shaft

Carbon Steel

Type 1045(ASTM) Or Stainless steel(304,316,361L.etc)

Shaft Sleeve,Lantern

Rings,Restrictor ,Neck

Ring,Gland Bolts

Stainless Steel

3Cr13,304SS,316SS

Joint Ring&Seals

Rubber

R26 R08 R55 R38 R33 Natural Rubber; S01 EPDM Rubber;

S21;Butyl;S31;Hypalon; S44; Neoprene