Gravel sand pump for big partical
1.Application
1)To extract mud and sand for ships,river dredging and mining.
2)For long –distance transmission of big partical or strong corrosive materials
that general slurry pump can't transport.
2.Features
1)Horizontal, centrifugal, one stage, centrifugal gravel and slurry pump.
2) Made up of pump,bearing assembly,seal assembly,bracket and so on.
3)Wear resistant wet parts which is made of hard metal (Chrome alloy).
4)Long bearing life: The bearing assembly with large diameter shaft and short overhang.
5)Mechanical seal, expeller seal and packing seal
6)Pump discharge direction in any of 360 degree.easy installation
7)Wide passage , good performance of NPSH, anti-wearing and anti-corrosion, high efficiency
3.Parameter of techincal characteristic
TYPE

FLOW

HEAD

RPM

EFF.

NPSH

DIA.

METRE

INLET

MAX.

PARTICLE

(m³/H)

(m)

(r/min)

(%)

(m)

(mm)

(mm

(mm)

6/4NP-G

187-36

7-51

600-1400

30-50

2.5-3.5

100

150

82

8/6NP-G

576-133

10-48

800-1400

50-60

3-4.5

150

200

127

10/8NP-G

930-216

13-50

500-1000

45-65

3-7.5

200

250

178

12/10NP-G

1512-360

11-58

400-850

50-70

2-4.5

250

300

220

14/12NP-G

3168-522

6-66

300-700

60-68

2-8.5

300

350

241

16/14NP-G

3024-900

9-48

250-500

60-72

3.5-6.5

400

450

254

18/16NP-G

3630-730

15-55

250-600

60-72

3-6.5

250

300

254

20/18NP-G

4300-1080

10-56

200-450

68-50

2-6

200

250

330
4.. The advantage of NAIPU NP-G sand /gravel pumps
| | |
| --- | --- |
| 1 | Large drdging depth, high density of dredging mud, good NPSH and stronger suction lift ability |
| 2 | Strong through-put. The pump can persistently discharge gravel, high plastic soil lump and so on |
| 3 | The pump can be directly matched with either motor or diesel engine |
| 4 | Wide application. It can be used in various kinds of soil quality. |
| 5 | Little hydraulic loss, high efficiency and low oil-consumption |
| 6 | Little volume, light weight |
| 7 | Steady operating, little vibration, low noise |
| 8 | Simple & reliable construction, easily disassembly & assembly, convenient maintaining |
| 9 | Reliable sealing without leakage |
| 10 | Long operation life of parts, high reliability of whole set, long MTBF |
| 11 | Obvious economic efficiency and energy-saving |
5.Pump Select Chart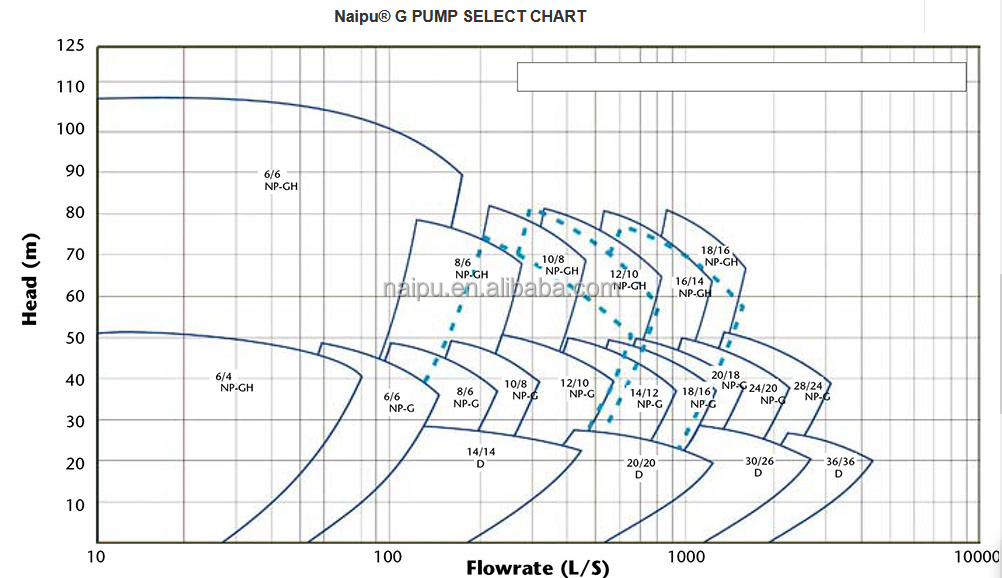 6.Pump Components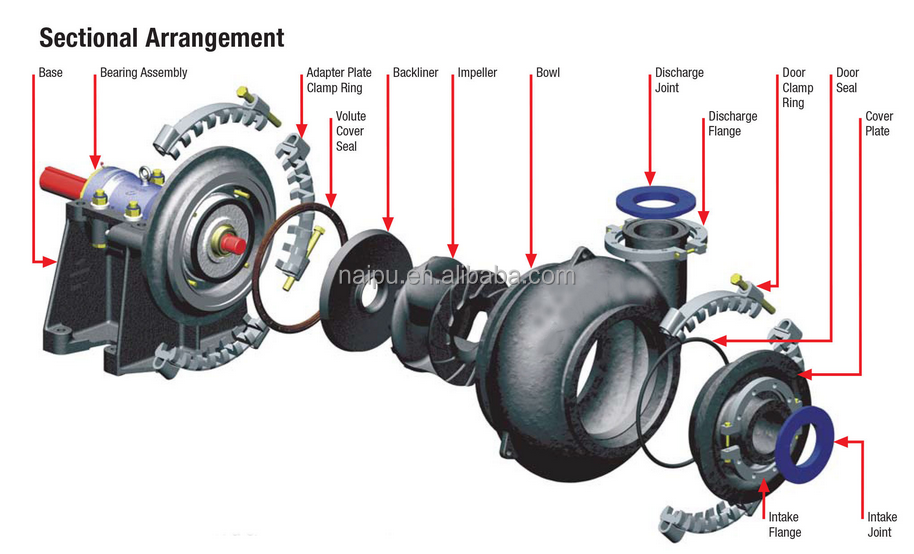 7.Material